This page is dedicated to my beloved Dino & Ike
who lost their battles with Cancer March 2012 & November 2012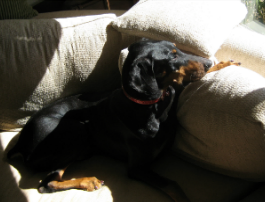 The loss of a pet is as varied as the pets themselves. Pets mean different things to different people and that will be reflected in the grieving process. Even members of the same household often express their grief in different ways. What might be comforting to one owner might not be to another.
Please check out this link if you or a love one is coping with a loss:
UCDavis Pet Loss Brochure
When you are ready, please let us know if your pet has passed away. Our groomers get attached to their clients & often wish to share their condolences. It also gives us the opportunity to remove your pet from our database as to not make a misguided attempt to get that pet in for its next visit.
Other websites to offer additional help:
UCDavis Veterinary Medicine Pet Loss Hotline
Cornell Veterinary Pet Loss Resources
The Argus Institute
Association for Pet Loss & Bereavement
In Memory of Pets
Lightening Strike Pet Loss Support

Try not immediately get rid of your dogs belongings after your pet's passing. If it is too painful to have these items visible store them away until you feel emotionally ready to decide what you would like to keep or donate. If you decide you now longer want certain pet items after time has past please bring them into Posh Paws and we will make sure they go to a local pet charity to help other pets.