I grew up in the suburbs of Minneapolis, Minnesota. It was there that I first worked in grooming salons and developed my love for grooming. After high school I attended the University of Wisconsin at Stevens Point and received a degree in Biology.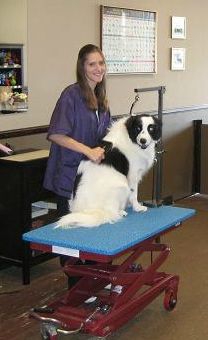 Shortly thereafter I moved to Texas and worked at several salons. This furthered my skills and exposed me to different ways of managing grooming salons. In 2006 I moved to Tucson and continued grooming at a Petco. Within a few months a new Petco opened on the east side of town and I was quickly selected to become the grooming shop manager.
Although I am grateful for that experience I became dissatisfied with the philosophy and restrictions a corporation places on a grooming salon. I decided to open my own salon that combined all the best techniques, equipment, and products in the industry. From premium, cruelty free shampoos and hydro-massage bathing systems, to employing only the best pet-loving staff. I pride myself on the quality of my staffs' work and the gentle care we give to each and every pet. My goal is for every visit to be a positive and relaxed one for both you and your pet.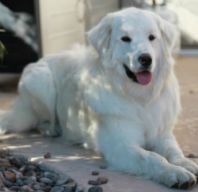 My canine kids include
Squirt (Chow/Lab mix), Halo (standard poodle), and Gus (Kuvasz, photo on the right). Two felines also share our home; Captain Blackbeard and Cricket.











Michaela (Michi) - Manager/Groomer

Back by popular demand after moving away to New York, we are thrilled to have Michi back! Michi was trained by Samantha shortly after moving to Tucson from her home town of Berlin, Germany. She excelled in every step of her training with an innate gift for grooming. Once Posh Paws was opened we were privileged to quickly add her to our staff. Her dedication, compassion, patience and skill make her the ideal groomer and manager of our grooming salon.




Michi's 4 legged kids include Ramone (standard poodle and brother to Samantha's poodle Halo), Corey (Chihuahua mix) and Toby (boxer). If you are lucky you might also get to meet Genevieve, Michi's adorable 2 legged kid while visiting our salon!






Michi is a member of the National Dog Groomers Association of America (NDGAA) and National Association of Professional Creative Groomers (NAPCG); keeping her up to date and energized about the grooming industry and the care of your pet.






Alexa - Groomer

Bio & Pictures Coming Soon



Beth - Groomer/Cat Groomer
Bio & Pictures Coming Soon


Taylor - Groomer

Bio & Pictures Coming Soon


Jasmine - Groomer
Bio & Pictures Coming Soon